Articles Home Page
Here are some articles written by - or about - Duff Watkins of ExecSearch International - Australia, which have appeared in a broad variety of newspapers, magazines and corporate publications.
Business

Six Myths for Misery When Seeking Employment
How the Job Market Really Works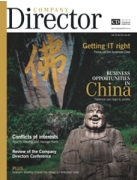 Swimming with a Shark: The Hidden World of a Head Hunter

The Big Irony: Why Top Performers Get Outplaced
Eroding Ethics in Head hunting
Corporate Comedy: Jokeses and Hoaxes
Safety
Is T.Q.M. (Total Quality Management) D.O.A. (Dead on Arrival)?
Op/Ed

It's win-win, no matter who wins
Cheer Up Kim, Whingers are Losers
Miscellaneous
Write Artistically - Act Commercially